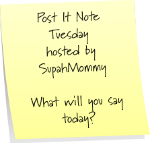 Hosted by Supah over
here.
Thanks for the fun idea!!!
To make your own
STICKY NOTES GO HERE
Well here I go again, making a bold move, and doing Super Sticky Tuesday. It's so much easier to do a post like this. Kind of addicting and fun, and I like real life post it notes as well!!!