Okay so this week I've been having fun messing around with my CTMH scrapbooking stuff. I am going away from using the "traditional" things to scrapbook with and am switching to digital!!
I LOVE THIS STUFF!!!

Why??

Easy let me tell you....
You can reuse the same "files" a.k.a. *papers* elements* customize it completely.
If you mess up where you want it placed, you can "undo" it without ruining the paper you just spent precious $$ on.
You can customize your layout however you want.
And instead of spending all the money in getting all the supplies that you'll have to keep replacing and doing every time you scrapbook, you can save up the money and buy stuff online if you find something you like and can't live without, and/or when you've accumulated those thingst that you want to "print" and finally have hard tangible, evidence that you really do " scrapbook" you can print it into a book!!

Blurb.c

om

now has a 12x12 hardbound book, that you can put all your digi scrap pages into when they are finished!!
Another side note... I'm totally into learning how to do all the tweaks, and learning tutorial after tutorial on how to achieve just the look and flavor I want.
So now that I know that, I'm going all out with 12x12 size layouts now, and I think I'll redo the ones that I've done earlier this year into the bigger size... who knows we'll see about that. I love CTMH stuff, but I'll just hold onto it for card making and stuff like that. Who knows maybe I'll even get to the point of just selling off what I do own.... nah! The stuff is cute!! And I did spend some money on it. Now I just need to invest in a better camera, and a new computer and I'll be well on my way to learning more about the things that tend to interest me most anymore. Here is a sample of the two pages I did yesterday in about less than 15 minutes altogether. (*that's only because I took the time to make the sketch's first and then I just had to pull in the few pictures I wanted to work with and the paper and elements and voila....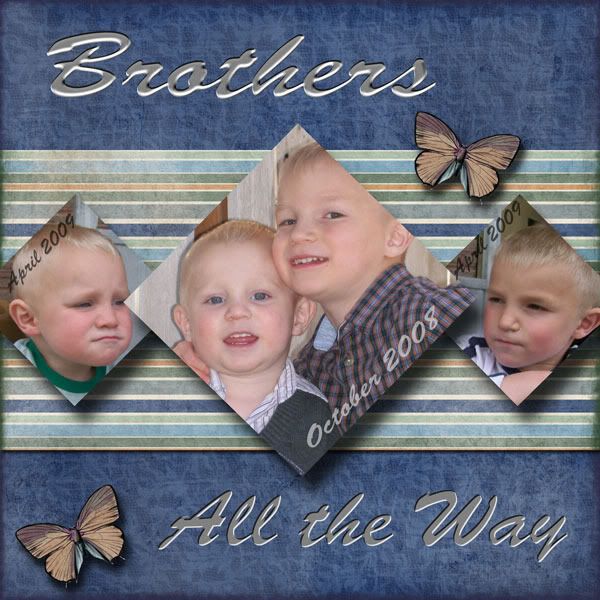 The Brothers layout was done using Christina Bartholomew's background papers from Christina's Grubbies --Brother's Paper Pack and elements (butterflies that I 'recolored') The layout I made but used the "ideas" from Reflections program that Close To My Heart sells. I bought the idea book years ago, and didn't really get a lot of use --- Until Now!!

Now Heidi's page I used the layout from Lisa Carter over at DSP and the papers and elements were from Rachel Dickson over at ComputerScrapbook.com
This is seriously so much fun for me, and I'm sure my family will be thankful as they grow taller, and get smarter and totally forget about these simple little things in life that make the best memories for me,being their mother.